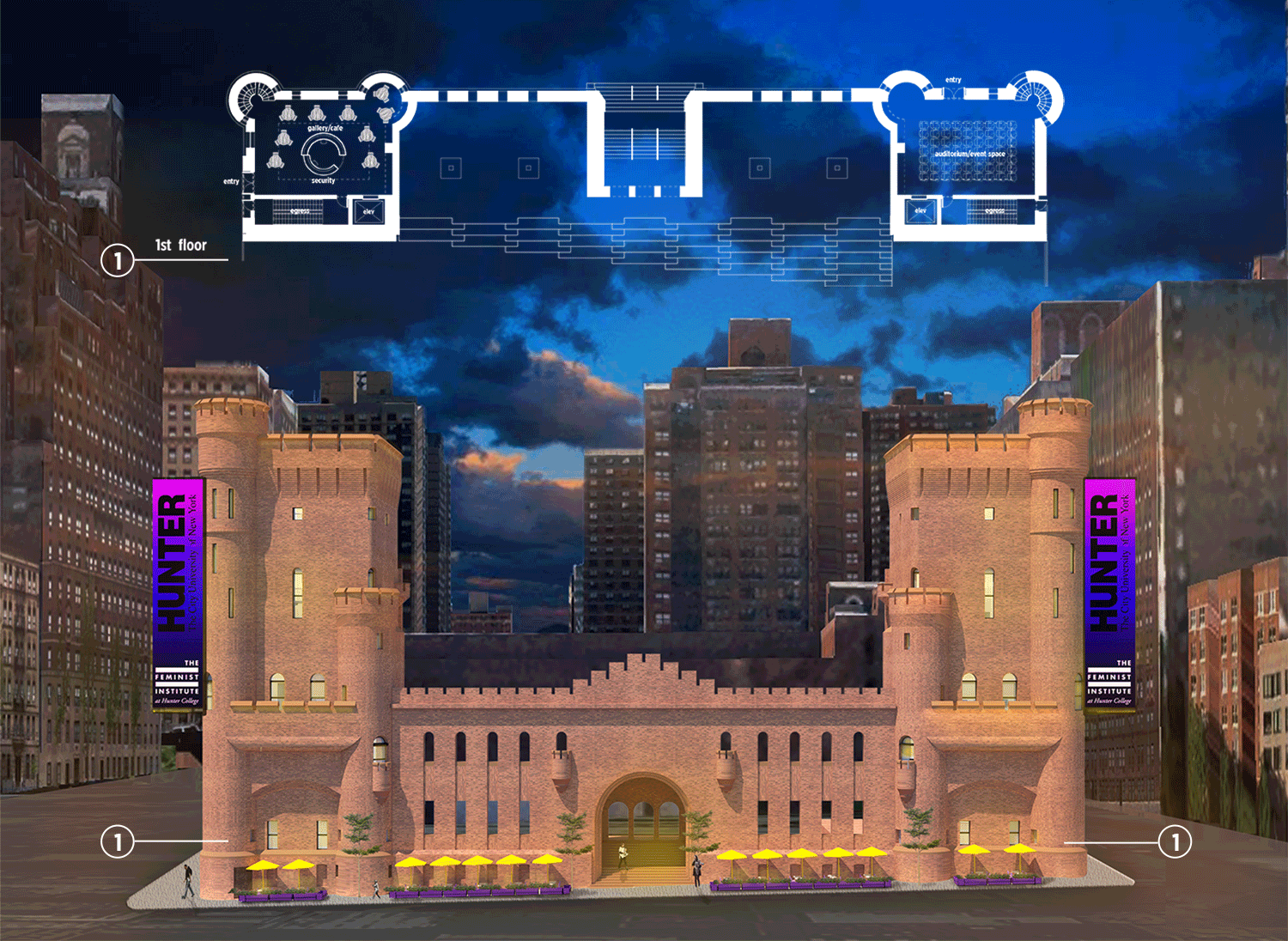 The Feminist Institute
Library, Archive and Research Institute
summary
This historic preservation and adaptive re-use project will establish a physical home for The Feminist Institute which aspires to be the most significant physical and digital repository for the study of feminist history and documentation. The Institute's new home will include administrative offices, archives, classrooms and research space, gallery and exhibition space and an auditorium.
The twin landmarks to be revitalized by this project are the Squadron A Armory Towers on Madison Avenue between 94th and 95th Street in Manhattan. The Squadron A Armory was built in 1895 and is a former US Army facility which once served a variety of regiments including the Calvary Squadron A. Since their landmark designation in 1966, the Squadron A Armory Towers have remained vacant.
The former armory towers are an existing, underutilized New York State asset. The Feminist Institute will preserve and restore the landmarked facades of the towers and completely transform the tower interiors to serve the Institute's mission.
Combined, the two towers will total over 12,300 square feet over five floors. The south tower will host the primary public and administrative functions of the Institute featuring a gallery and exhibition space with a ground floor public café that opens onto a plaza/sidewalk café. The north tower will become the academic heart of the institute with a digital and physical archive of feminist documentation, classrooms and research spaces for students and scholars, additional exhibition space and an auditorium for conferences and events.
Rehabilitating the towers will require entirely new building systems, structural reinforcement, egress, vertical circulation and interior finishes. This project offers the opportunity to revitalize a crumbling historic asset on an uncharacteristically blighted block along one of the most important commercial strips in New York City.
Upon completion, the towers will become a hub of cultural, economic, and educational activity. The Feminist Institute expects to attract hundreds of scholars annually to access their archives. Year-round programming will include conferences, exhibitions and performances. In partnership with institutions and organizations statewide such as the Sarah Lawrence College, Women's Hall of Fame in Seneca Falls, the Institute will plan excursions from Manhattan to upstate New York landmarks fostering state interconnectivity and tourism.
client
The Feminist Institute
project budget
$11,000,000-
project square footage
12,300sf (both towers)
scope of services
• planning and programming
• pre-design and fundraising
see also:
masterplanning and feasibility studies